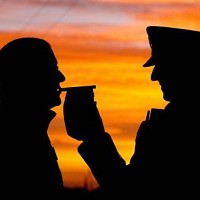 The number of people who want Wales and England also governed by the new Scottish drink-drive limits outnumber those who don't by two to one, according to a new survey.
As many as 68% of the 2,632 adults polled are in favour of such a change, an Institute of Advanced Motorists (IAM) poll found this month.
New Scottish law will see the introduction of a new drink-drive limit of 50mg of alcohol to every 100ml of a driver's blood introduced before Christmas.
This is part of a concerted attempt to reduce drink-related road accidents on Scotland's highways which can lead to death, injury, jail sentences, fines and higher car insurance premiums.
The IAM has urged Westminster to urgently bring English and Welsh limits in line with elsewhere in Europe, saying that that 63-116 deaths can be avoided each year by lowering the limit, from the current 80mg per 100ml.
Far more people polled said that the answer to tackling drink-driving is increased police checks (53%) rather than raised alcohol prices (5%).
Copyright Press Association 2014