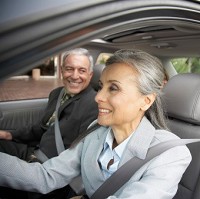 A new, voluntary driving assessment to help mature motorists decide how long to continue driving is being launched by the Institute of Advanced Motorists (IAM).
The Mature Driver's Assessment is targeted at drivers over the age of 70 and aims to give them advice and reassurance over their driving ability.
As part of the 60-minute assessment - which is not a formal test - candidates will drive their own vehicles along routes they normally use.
They are given immediate feedback and a written report by an IAM-approved assessor at the end of the session, with those judged 'Excellent' or 'Competent' handed a certificate.
Those who are not quite up to scratch will receive advice on which areas of their driving need improvement and how to go about it.
Simon Best, chief executive of the IAM, says the Mature Driver's Assessment will bid to help older motorists drive safely for as long as possible.
He says many elderly drivers give up earlier than they need too, purely because they are lacking in confidence.
In March this year, IAM research showed that 42% of the population is worried about an elderly relative driving, yet they are unlikely to do anything about it.
For those struggling with driving, the assessment gives them valuable advice about the best time to quit, he adds.
Copyright Press Association 2014