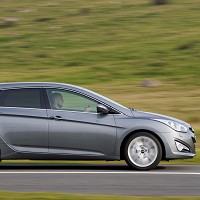 Hyundai has added a new extra luxurious variant to its high-value i40 range.
The South Korean auto giant is introducing the Premium SE, which is available in both saloon and sport tourer models.
The range-topping Premium SE sits above the regular Premium model and is packed to the gills with all of the features presently contained on the existing Comfort, Vision and Assist packs.
The Premium SE comes equipped with heated steering wheel, ventilated front seats, heated rear seats, xenon headlights with adaptive front lighting system, lane departure warning system and tyre pressure monitoring.
The i40 tourer Premium SE starts at £27,465 for the manual Blue Drive and standard models with the automatic version costing £28,670.
Prices for the saloon begin at £26,065 rising for the manual Blue Drive and standard models, rising to £27,270 for the automatic.
The i40 Premium SE comes with a five year warranty as standard, but motorists will still require breakdown cover in case of a roadside emergency.
The Premium SE i40 will be available with the 1.7-litre CRDi 136PS engine (including the Blue Drive variant) along with a choice of either a manual or automatic gearbox.
Copyright Press Association 2013