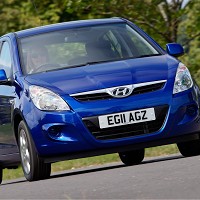 Hyundai has bucked the trend of decline in the European new car market by enjoying record high figures in the first quarter of 2012.
Statistics from the European industry body ACEA show that the South Korean car manufacturer registered 114,571 new vehicles in Europe between January and March, an increase of 12.5% on the same period a year earlier, giving it a record high European market share of 3.3% during that time.
Meanwhile, the overall European new car market declined by 7.3% in the first three months of 2012. The market slumped by 6.6% in March but Hyundai managed to post record registration figures of 50,131, a 13.8% rise from the same month in 2011.
Senior vice president of Hyundai Motor Europe, Allan Rushforth, is delighted with the results and believes they are a vindication of his company's strategy.
"Hyundai cars are designed, engineered and manufactured in Europe for Europeans - our performance in quarter one demonstrates how well this strategy is working," he said.
Copyright Press Association 2012