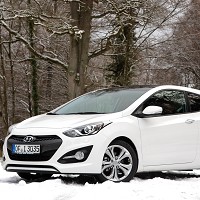 A Hyundai could finally be named Car of the Year, after being short-listed for the first time in its history.
The best selling car in Europe, New Generation i30, was chosen by more than 50 members of a panel of experts.
More than 22 European countries were represented by the team, who voted for their favourite vehicles, with the i30 now going through to the next round.
Allan Rushforth, senior vice president of Hyundai Motor Europe said the vehicles' design and affordability were two of the main reasons he believed the i30 was chosen as a contender for Car of the Year.
He praised the expert panel for recognising a vehicle that was designed, developed and made in Europe for Europeans.
Hyundai has seen sales soar, despite a tough economic climate for care sales, with at least 500,000 i30s being sold in Europe in the past five years, since its launch, while more than 1 million are said to have been bought globally.
Copyright Press Association 2012