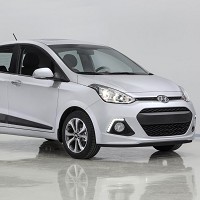 Hyundai is the big winner in this year's Car Buyer Car of the Year awards.
Every year the website selects its cars of the year and Korean firm Hyundai has landed the overall 2014 Car of the Year and Best City Car accolades for its new i10.
The judges were impressed with the quality, refinement, style and value of the city car that costs as little as £8,345. CarBuyer Editor-in-Chief Steve Fowler said the brilliant i10 is perfect for buyers looking to reduce the cost of motoring as it is cheap to buy and own, but spacious and fun to drive too.
The panel also liked Hyundai's Santa Fe that surpassed rivals like Land Rover to pick up the Best Large SUV prize. Fellow Korean car manufacturer Kia celebrates its seventh birthday this month and will be doing so on a high after it won the CarBuyer Buyer's Award for its seven-year warranty package.
BMW's 3 Series and 5 Series models won the two executive car awards, while its i3 supermini picked up the Best Electric/Hybrid Car honour.
Copyright Press Association 2014