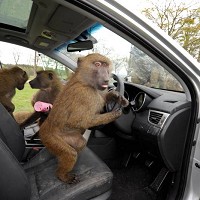 Like all parents, footballer Wayne Rooney knows the risk of taking the kids to a safari park.
Choosing a good car insurance policy is vital when braving the monkey enclosure, but now going in a Hyundai i30 can pay off too.
The carmaker proved this when it let Knowsley Safari Park's baboons put its new family motor to the ultimate wear-and-tear test this week.
There was certainly plenty of monkeying around at the Merseyside attraction - famous for Rooney's visit last year - in the most rigorous of endurance tests, the first of its kind by a car manufacturer.
The i30 is specially designed for families and the 'little monkeys' in the back with strong interior materials, easy wipe plastics, tough fittings and high quality steel bodywork.
They were all needed when the car was parked in the baboon enclosure and immediately seized upon by its inhabitants.
The test confirmed the strength and toughness of the vehicle and gave Hyundai plenty of food for thought for the future development of its cars.
The i30 product manager, Felicity Wood, said the car only suffered a few scrapes but was testament to the way a modern Hyundai is designed and engineered.
"We really do give a monkeys about building tough cars," she said.
Copyright Press Association 2012