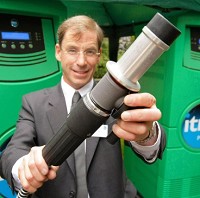 The Government is co-investing £11 million into what is being hailed as the first "major" step towards a hydrogen-fuelled vehicle revolution.
The funding will include financing more refuelling terminals across the country which drivers of hydrogen-powered vehicles can set their journey planner to. It will also upgrade existing ones.
The private-public sector project is putting £7million of this pot into a maximum of seven new stations.
This will swell their number across the country to a maximum of 15.
This compares with the 8,500 traditional petrol and diesel filling stations.
But the Office for Low Emission Vehicles' (OLEV) funding commitment also includes £2 million for 40 new public sector hydrogen-powered vehicles.
Toyota hopes to introduce the UK's first hydrogen fuel-cell vehicles for sale next year which will retail at around £40,000. The Japanese manufacturer claims that refuelling the model will take only three minutes.
OLEV's latest hydrogen fuel commitment is among the £500 million kitty the Government is spending before 2020, in the hope of transforming the country into a low-emission vehicle world leader.
Mike Hawes, chief executive of the Society of Motoring Manufacturers and Traders (SMMT), calls the move the first "major" step in putting the UK's hydrogen-based fuel infrastructure in place.
Copyright Press Association 2014