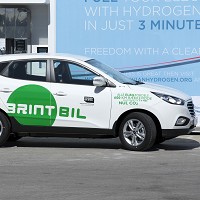 The first hydrogen-powered cars assembled on a production line to be introduced to the European market have arrived in Denmark.
The 15 Hyundai ix35 Fuel Cell models were handed over to the City of Copenhagen authorities by Hyundai Motor Europe's president Byung Kwon Rhim during a special ceremony to mark the opening of Denmark's first hydrogen refuelling station.
The ix35 Fuel Cell cars, which will be used as fleet vehicles, can hold 5.64kg of hydrogen, which equates to about 369 miles of driving. And filling them up takes no longer than it does in petrol or diesel-powered cars.
Copenhagen is aiming to be carbon neutral by 2025, and authorities see hydrogen-powered cars - which produce only water vapour - as vital to achieving that goal.
Hyundai has spent the past two years positioning its ix35 Fuel Cell prototypes into various different initiatives in Europe, particularly those linked to politics. The Korean company wants to raise awareness of the technology around the world and show why it believes it is preferable to other low-carbon options.
Copyright Press Association 2013