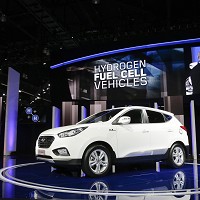 The electric car sector has a challenge on its hands when it comes to securing its place at the forefront of green transport - in the form of hydrogen models.
Three manufacturers, Hyundai, Toyota and Honda, have developed hydrogen vehicles - which only send water vapour out of the exhaust - and are the way to delivering to the public.
Toyota chose the Tokyo Motor Show to tell Japanese car fans they would be able to get their hands on a car run with hydrogen fuel cells by 2015. The mass-production model will hit US roads a year later, it said.
Hyundai revealed a Tucson small SUV at the Los Angeles Auto Show. It will lease that car to the public and aims to be the first with a mass-produced car available in the US, as soon as next spring.
Honda also revealed its plans for a 2015-release hydrogen car at the LA event.
These much-anticipated models are likely to have a luxury price tag - Toyota said it was aiming for the lower end of between between 50,000 US dollars (£31,000) and 100,000 dollars (£62,000).
Experts who back the innovative fuel solution say reliability and safety fears about hydrogen have been rectified.
Unlike electric models, hydrogen cars have the same sort of range as their petrol cousins and can be filled up quickly. However, places to fill them up are few and far between, as well as expensive to build.
RAC technical director David Bizley said: "Hydrogen fuel cell technology is without doubt impressive in terms of vehicle range, the lack of carbon dioxide emissions and the cost of the fuel itself, but the costs associated with building hydrogen fuelling stations is by far the biggest stumbling block as they are far more expensive than installing electric charging points.
"Of course, to really make a difference to the environment it is essential that the hydrogen itself is produced in a green way otherwise the benefits of reduced emissions are negated.
"It would be great for motorists to have the ability to choose between different alternatively powered vehicles in the not too distant future, but practicality is bound to play a large part in the process for fuel retailers.
"As with lots of new technologies, one will inevitably prove to be more dominant, and it will be very interesting to see which comes out on top. Electric vehicles definitely have a head start but their range limitations make the hybrid - electric and petrol/diesel combination - technology look more likely to prevail in the short to medium term."
Copyright Press Association 2013