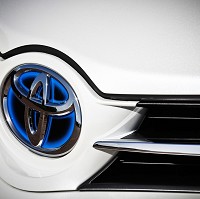 Toyota is enjoying increased sales of hybrid cars in the UK thanks in part to the growing popularity of the Auris Hybrid.
New figures released by Toyota GB show petrol-electric hybrids account for almost a quarter (22.5%) of its total sales nationwide - shifting 20.6% more Auris Hybrids then this time a year ago.
In fact, the reputation of the Auris Hybrid now means it makes up almost half of all Auris sales in the UK.
Drivers who want the best of both worlds - a petrol engine and an electric motor - are also turning their attention to the Yaris. As many as a quarter of popular superminis bought in the country come equipped with the proven and self-recharging full hybrid system, pioneered by the Prius.
Good results for the new Aygo and low-CO2 RAV4 have also boosted sales for the Japanese automaker in the UK.
The rejuvenated Aygo is selling almost 20% better than the old model, partly because of its low car insurance group, while the RAV4 has experienced an 80% jump in fleet sales due to a lower-CO2 diesel version.
Copyright Press Association 2014