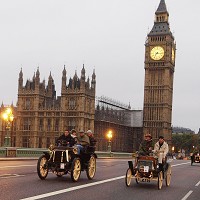 Strong winds and heavy rain did not deter hundreds of vintage car drivers from attending the annual London to Brighton Veteran Car Run.
Around 450 of the 557 who entered the Royal Automobile Club's 76th rally were expected to make it to the East Sussex coast after driving off from Hyde Park, organisers said.
Organiser Jeff Carter said: "We have had some really awful weather today. It was coming down in stair rods around Crawley and it has affected the number of finishes.
"However, these cars were designed to go out on the road and their owners love it."
The annual rally marks the first "Emancipation Run" in 1896 following the passing of the Locomotives on Highways Act raising the speed limit for "light locomotives" from 4mph to 14mph and scrapping the requirement for a man on foot to walk in front of vehicles carrying a red flag.
On the 60-mile route were vehicles of pre-1905 registration from 24 nations and 155 different makes of car driven by motorists aged 17 to 85.
Early models of familiar makes such as Peugeot, Renault and Cadillac could be seen crossing Westminster Bridge and following the A23 via Croydon and Crawley at a steady 20mph.
Legendary British racing driver Sir Stirling Moss and Pink Floyd drummer Nick Mason participated in the rally.
Copyright © Press Association 2009