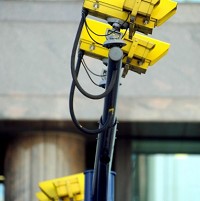 Human error was behind a speed camera fine in which a parked car was somehow confused for a speeding motorbike, officials have said.
Dave Copeland has insisted all along that his vehicle was parked outside a Chinese takeaway in Shropshire at the time of the alleged offence.
Now West Mercia Safer Roads Partnership's investigation has proved that he is innocent.
It found that his parked car was caught on the same picture as a speeding motorcycle, which was travelling 5mph over the legal 30mph limit.
The finding means that Mr Telford will have the £100 fine overturned. A spokeswoman for the Partnership says that the triggered speed camera took a picture of two vehicles.
The ticket was despatched to the non-offending road user because of human error and the wrong registration became processed.
She called the fault "extremely rare" and says such errors are put right the moment the Partnership becomes aware of the mistake, as on this occasion.
Electrician Mr Copeland, 35, got in touch with the safe-driving partnership after being told of the alleged offence at the end of last month.
He told officials that he was at a Chinese takeaway. They told him that the camera's photograph clearly showed his vehicle in a lay-by. Mr Copeland says he knew something was wrong all along.
Copyright Press Association 2015