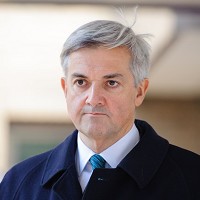 Former energy secretary Chris Huhne is to resign as Member of Parliament after pleading guilty to perverting the course of justice.
Huhne, 58, changed his plea to guilty shortly before his trial was due to begin at Southwark Crown Court.
The Liberal Democrat was due to stand trial alongside ex-wife Vicky Pryce on charges that he made her take speeding points after he was caught speeding in 2003.
"Having taken responsibility for something that happened 10 years ago, the only proper course of action for me is to resign my Eastleigh seat in Parliament, which I will do shortly," Huhne said.
Despite resigning as energy secretary in February after being charged with perverting the course of justice, Huhne continued to deny the offence.
Lib Dem leader Nick Clegg said that he was "shocked and saddened" by Huhne's admission, but added that Huhne had taken the "right decision" in resigning.
Prime Minister David Cameron's official spokesman said: "It is a matter for Mr Huhne."
Pryce, who was released on unconditional bail overnight, will stand trial today.
Copyright Press Association 2013