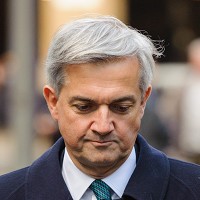 Disgraced former cabinet minister Chris Huhne is a free man again on Monday morning after being released from prison after serving two months of his jail terms for perverting the course of justice.
The former energy secretary's ex-wife Vicky Pryce, who accepted his speeding points 10 years ago, was also released.
Huhne, who was once touted as a possible Liberal Democrat leader, exited Leyhill Prison in Gloucestershire by the main entrance and got into a silver Honda, thought to be driven by a relative, without making a statement. Despite being released after serving less than a quarter of his eight-month prison sentence, Huhne will have to wear a tag which will restrict his movement.
Pryce, who was also jailed for eight months for perverting the course of justice, used a back door to leave East Sutton Prison near Maidstone in Kent. The jail is a Category D open prison for women and young offenders.
Earlier this year the pair were imprisoned for an incident in 2003 which saw Pryce take speeding points for her then husband.
Huhne, who is unlikely to return to Westminster, will return to the home he shares with PR adviser Carina Trimingham, with whom he had an affair with in 2010, ending his 26-year marriage with Pryce. Economist Pryce is likely to return to her home in Clapham, South London.
Copyright Press Association 2013