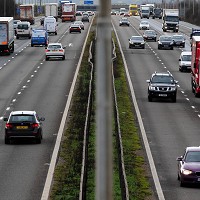 Van and truck registrations have hit a record high, as business goes from strength to strength in the UK.
The latest data released by the Society of Motor Manufacturers & Traders (SMMT) reveals 108,456 vans and trucks were registered between January and March 2015, making it the best quarter on record.
Demand for the latest vans and trucks is now back to pre-recession levels, outpacing the rest of Europe.
Economic confidence
The figure of 108,456 commercial vehicles registered during the first three months of the year is almost half of the 221,132 that were registered in the whole of 2009, when the recession started to bite.
This was down from 388,488 in 2007, yet the past 12 months have seen a return to form with 384,120 registrations - and demand is expected to remain strong for the remainder of 2015.
The SMMT says the recent surge in registrations reflects an upturn in economic confidence across the UK.
Consumers are spending more money on goods and services as gross domestic product continues to grow. This is good for business, with firms increasingly ready and able to invest in vehicles to meet demand.
Attractive finance deals from manufacturers are also making it easier for companies invest in the latest, safest and low emission vehicles.
European rivals
The UK is now leading the way in Europe when it comes to the commercial vehicles market.
It is the third-biggest market for vans and trucks on the continent, having surpassed two of its larger rivals, Germany and France, for growth in the first two months of the year.
Demand for vans is particularly strong at present, as home deliveries continue to grow in popularity.
Some 97,775 vans were registered between January and March, up 22.3% year-on-year, while annual registrations are nearing an all-time.
This success is to be celebrated at the Commercial Vehicle Show in Birmingham. It will feature exhibits from 450 companies, plus unveil a range of new vehicles from the likes Citroen, Dacia, Fiat, Mercedes-Benz and Peugeot.
There are currently some 4.4 million vans and trucks on roads in the UK, covering billions of miles each year.
RAC Business spokesman Simon Peevers said: "As the Commercial Vehicle Show gets underway this week in Birmingham, it is great news to see such strong figures coming out of the sector.
"This kind of investment in new vehicles is a real sign that confidence is returning and that businesses are expanding their fleets to meet new demand in areas such as online sales.
"We are looking forward to meeting businesses at the CV Show this week to talk about how we can support their fleet which will in turn help their business grow."
Copyright Press Association 2015