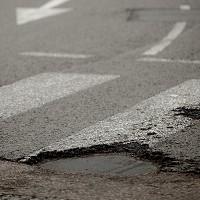 The Department for Transport's Pothole Review has found that adverse weather conditions throughout the winter months have caused considerable damage to Britain's roads, and that potholes are one of the public's greatest local concerns.
Drivers worried about potential damage being caused to their vehicle are well advised to ensure their car insurance cover is valid and up to date.
A solution has recently been proposed by the coalition government, in the form of a £6 million Highways Maintenance Efficiency Programme designed to win the war on potholes once and for all.
In the meantime, here's some advice courtesy of Car Loan 4U on how to deal with the hazards:
:: Whenever possible avoid driving over a pothole as they can give you an instant flat tyre.
:: Drive slowly as your car's shock absorbers and suspension system could also be at risk of damage.
:: Check your tyre pressure as a soft tyre can rip after a sudden bump.
:: Watch out for puddles as a pothole might be lurking underneath.
Copyright Press Association 2012