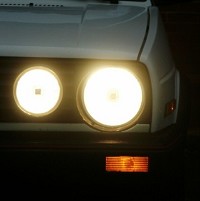 Britain's leading advanced motorist is offering tips about how to avoid "flash for cash" scams.
There has been a huge increase in these staged collisions that can net criminals small fortunes in exaggerated car insurance claims and also risk causing injury or death to the victim.
The Institute of Advanced Motorists' (IAM) Peter Rodger is warning motorists to watch out for someone deliberately flashing them to dupe them into thinking the scammer is giving way before driving into the side of their vehicle.
Drivers shouldn't go out if a driver flashes them to invite them out of a junction.
Instead, they should wait until the road is clear to carry on.
If motorists are duped in a "flash for cash" incident, they should keep careful notes and discreetly take pictures of the damage to all vehicles.
They should stay calm, get the motorist's description, count the amount of people in the other vehicle and call the police if suspicious.
Copyright © Press Association 2013