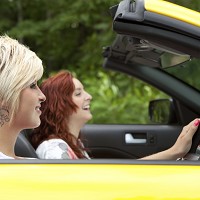 Until the heatwave ended this week July had been the perfect month for driving around in convertible cars, but buyers of used cabriolets should be wary as initial appearances can be deceiving, experts say.
Vehicle information firm HPI is warning people who are thinking of buying used convertibles to not get carried away with the prospect of enjoying the warm weather and fail to inspect cars closely enough as dangers that can cause breakdowns or leave them seriously out of pocket can be hard to spot.
HPI's managing director Daniel Burgess says one in three cars it checks "have something to hide" and can cause buyers to find out they made a bad decision.
One such problem is outstanding finance, as one in four used cars that are sold are still subject to finance agreements and companies can reclaim vehicles if payments are not made, meaning buyers can lose their cars and their money.
Other HPI advice on buying used cabriolet cars includes checking seals as convertibles can leak over time.
Buyers should also test roofs for mechanical problems, stiff latches and whether they are stored away properly when down.
Buyers should always test drive used cars and it is even more important to give convertibles a try as they can be more temperamental, so checking the histories of vehicles is vital to make sure bargains really are bargains.
Copyright Press Association 2013