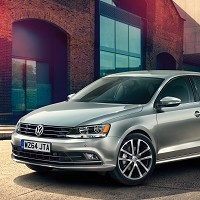 Orders have opened for the new and improved Volkswagen Jetta.
The revised German small family model debuted in New York in April, and is set to be made available in dealerships from this December.
Its many enhancements include a 10% more aerodynamic drive, sleeker styling, and fresh ambient lighting which lends the car a more upmarket feel.
Its steering wheel, instruments, boot lid, trims, seat fabric designs and radiator grille - with a trio of horizontal fins - are among the features also getting the VW makeover treatment.
In addition, state-of-the-art assistance technology plays a big part in the Jetta's renaissance; with Blind Spot Detection with Rear Traffic Alert optional.
BlueMotion Technology changes include handy battery energy recovery.
All models meet the EU6's latest emissions legislation.
A selection of different engines are available with gearboxes ranging from five to seven speeds with a choice of either manual or DSG.
Copyright Press Association 2014