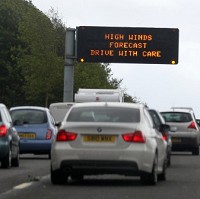 In light of recent stormy weather, drivers have been urged to respond accordingly.
Advanced motoring expert Peter Rodger has issued tips on how to drive in windy weather to prevent accidents orbreakdowns .
Heavy winds can unsettle your vehicle and even alter your direction of travel, warned Mr Rodger, of the Institute of Advanced Motorists.
So a tight grip and slower speed is recommended, along with extra vigilance towards motorcyclists and flat-sided vehicles such as lorries which can easily be blown off course. Give these more room than normal, he says.
Mr Rodger also advises planning trips in advance, calling on people to choose routes less exposed to the elements with reduced risks of fallen trees. Observe roadside trees and vehicles ahead to indicate how strong the wind is, he says.
He warned that overtaking high-sided vehicles can result in a sudden gust from the side as you clear. Beware of fallen trees around bends, he adds, and be wary of debris.
Copyright Press Association 2014