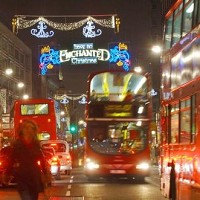 Drivers can reduce their chances of hitting seasonal traffic jams, thanks to the Highways Agency's online support.
The Agency has posted a special festive data page detailing latest weather and traffic information.
This should help motorists set their journey planners away from the biggest bottlenecks when doing last-minute Christmas shopping or visiting Boxing Day sales. The site will also advise drivers which dates and routes are expected to be the most congested.
The Agency's Stephen Bush, who is responsible for emergency planning, said that wintry weather and Christmas shoppers can combine to make this time of year particularly hectic on the country's roads.
This is why it is recommending that motorists do their homework and check its web page, regional radio stations and weather forecasts, Mr Bush said.
He added that this could be particularly helpful if drivers are travelling to or from busy shopping centres or retail parks.
Copyright Press Association 2014