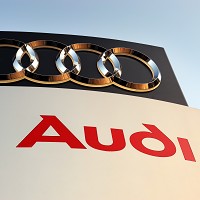 The company behind Audi cars has been ordered to qualify its advertised fuel consumption figures, after it was found they weren't realistic enough.
Audi owner Volkswagen will have to admit that it's not entirely true that - as claimed on its website - Audi's A3 TDI is "the most fuel efficient Audi ever".
The revelations come as one driver who bought the car said the claim the vehicle could achieve 68.9 miles per gallon was misleading, as his car was unable to achieve the same result.
But Volkswagen are defending such claims, saying the figure was obtained from a breakdown of manufacturer's tests which comply with EU regulations.
The company did admit though that some complaints from customers who were unable to achieve the same result in their vehicles were "occasionally encountered", and that there were "infinite variations" in different people's driving styles along with road type and weather conditions which could impact the results.
The Advertising Standards Authority (ASA) said in practice fuel consumption figures came from a set of test drive cycles carried out in controlled conditions to show the car's efficiency in multiple scenarios.
Copyright Press Association 2013