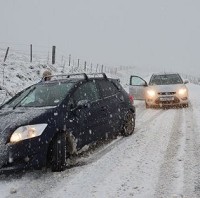 Millions of motorists throughout the country will soon be waking up to the first days of winter.
But the seemingly unequal struggle between cars and the elements need not keep drivers awake at night.
Road safety charity the Institute of Advanced Motorists (IAM) has issued a seven-point plan to help keep drivers on the road and their motors prepared for the worst this winter.
Its #wheelsinwinter campaign recommends several key checks. Peter Rodger, chief examiner for the charity, says spending minutes on the following checks could save many problems in the long run.
The institute advises that motorists do not venture out without a full winter emergency kit. This includes a torch, shovel, mobile phone, breakdown cover service provider telephone number and a blanket.
Secondly, drivers are asked to check last winter's de-icer and ice scraper since frost can arrive early and without warning.
Next, motorists' brake fluid levels should also be checked as should washer bottle screen wash.
The IAM recommends that drivers check their lights and ensure that at least one spare bulb is kept in the vehicle to avoid a maximum £1,000 fine.
Tyres monitored for a legal minimum of 1.6mm tread and anti-freeze topping up are the sixth and seventh checks the IAM advises.
Copyright Press Association 2014