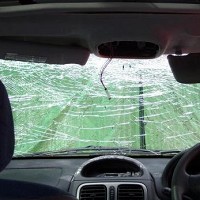 A horse crashed through the windscreen of an elderly woman's car during a night-time accident on a road in New Zealand.
The animal's hooves smacked Catherine Lawrence in the face, leaving her with bruises and an eye injury.
The incident occurred when the 74-year-old was driving down a road near Nelson on South Island.
No sooner had she narrowly missed hitting two horses on the road, another crashed through the windscreen of her car.
The horse died as it landed with its head on the back seat and body on the front passenger seat, the New Zealand Herald newspaper reported.