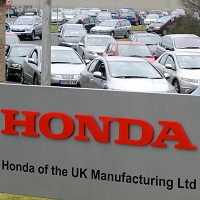 Workers at car giant Honda have opted to take a temporary 3% pay reduction in order to protect hundreds of jobs at the manufacturer's Wiltshire factory.
Unite, Britain`s biggest union, said its members at the company`s Swindon-based plant, voted 9-1 in favour of the wage cut, due to last for 10 months, in a move that will safeguard 490 jobs.
Production at the Honda factory is due to recommence from June 1, after work had been halted for four months.
Workers will now be given six extra days of paid annual leave as a bonus for agreeing to the terms of the pay cut.
Jim D'Avila, regional officer at Unite, said the workers at Honda had shown 1 solidarity and were standing together in order to project jobs in the tough economic times.
"This is also a ringing endorsement of the shop stewards at Honda, who have the full confidence of the workforce," he added.
Copyright © Press Association 2009