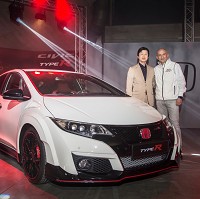 Honda whetted drivers' appetites on the eve of one of the world's biggest car shows.
Those heading to the Geneva Motor Show (March 5-15) may have missed Wednesday's exclusive sneak preview of two new additions to the Japanese giant's stable.
The pre-exhibition event saw its inaugural NSX supercar production version and Civic Type-R unveiled.
The former should hit UK dealerships this summer with the promise of being Honda's swiftest production vehicle yet. Its carbonfibre/aluminium body fronts a four-wheel-drive-enabled, hybrid powertrain.
This brings exclusively electric motoring or immediate response from the twin-turbocharged petrol and electric energy.
The Civic Type-R is set to hit the road this summer from £29,995 offering 0-62mph acceleration across 5.7 seconds, and a top speed of 167mph.
It benefits from 295lb.ft worth of torque and 306bhp from its new turbocharged 2.0-litre V-TEC engine. Its bulging wheelarches lend it a distinctive look to add to significant aerodynamics.
Copyright Press Association 2015