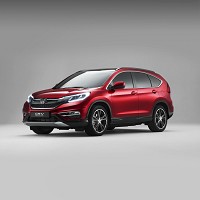 Honda's CR-V SUV is to sport a new look and more power in a cleaner engine, the Japanese manufacturer has announced.
The all new CR-V is to be built for the UK and European market at Honda's factory in Swindon. Motorists splashing out to buy one have the option of an automatic nine-speed gearbox.
On the outside the SUV's headlights, fog lamps, tailgate, bumpers and front grille have all been given a fresh look.
And under the bonnet, the car's four-wheel drive version will feature a four cylinder 1.6-litre diesel engine.
It is hoped that when combined with the nine-speed automatic gearbox, CO2 emissions will be cut by a fifth compared to the model's old 2.2-litre diesel engine.
Four-wheel drive versions with a manual gearbox are expected to achieve a reduction in emissions of 11%.
The new CR-V's two-wheel drive version, meanwhile, will be available with a manual gearbox and a 1.6-litre diesel engine.
Copyright Press Association 2014