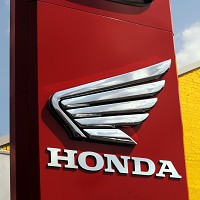 The hands-free commute could become a reality as soon as 2020 after Honda unveiled a prototype vehicle which can safely drive itself on the road.
The Acura RLX sedan completed an eight-mile route in Detroit with the driver's hands being completely off the steering wheel the whole time.
A beacon using laser beams made the hands-free drive possible - the car's surroundings are continually monitored and GPS helps the vehicle stay on a previously-mapped route and adhere to the speed limit of the road.
During its Detroit journey, the car travelled at the speed limit on the motorway and applied the brakes if it got too close to the vehicle in front. It safely carried out lane changes and route exits.
Honda officials said that manual operation will return to the driver if the car senses it cannot handle a situation, such as fast braking if a car suddenly cuts in front of the Acura.
Chief engineer Hironbu Kiryu revealed that work on the project had been going on for about a year, with decades of safety research providing an initial basis.
The Acura RLX is being showcased this week at the Intelligent Transport Systems World Congress in the US city.
Copyright Press Association 2014