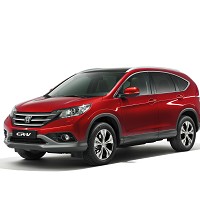 Honda's fourth generation CR-V will debut in the UK on October 1 for about £18,000.
The design of the latest version of the popular model has been tweaked. The vehicle's height and length have been reduced, while luggage space has been increased by 148 litres to a total of 1648 litres. The front of the car has a sharper face with a new nose, deep-set headlights and the bumper attached to a horizontal three-bar grille.
This will be the first edition of the CR-V with front-wheel drive, initially available only with the petrol engine, though the 4x4 version is anticipated to capture the bulk of sales.
Two engines from the previous generation of the model have been modified, the 148bhp 2.2-litre diesel and the 153bhp 2.0-litre petrol.
Both engines are available with a five-speed automatic or six-speed manual gearbox. Honda has reduced CO2 emissions from both engines: the petrol from 192g/km to 173g/km of CO2 and the diesel from 171g/km to 149g/km of CO2.
In the future a 1.6-litre diesel engine will be added to the range.
Copyright Press Association 2012