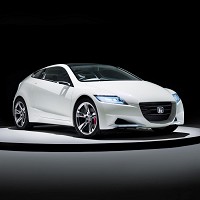 Honda has announced plans to start selling its new CR-Z sports hybrid model in Japan by February 2010 as part of its green car drive.
The new hybrid coupe is due for release in the UK towards the end of 2009, but Honda's new CEO, Takanobu Ito, said motorists in Japan will be able to purchase the car not long after.
The CR-Z combines features of the current Insight and Civic Hybrid to form an enhanced compact hybrid model, which runs on its lightweight, and efficient Integrated Motor Assist (IMA) system.
As well as developing is hybrid range, Honda is looking to introduce the IMA system to the award-winning Honda Jazz within the next few years.
Developments have also been made in creating a new hybrid system suitable for mid-to-large vehicles.
Until then, the new CR-Z will lead the way for the firm's hybrids following its unveiling as a concept car at the 40th Tokyo Motor Show in 2007.
Mr Ito`s background in engineering appears to be a familiar driving force behind the company after former CEO Takeo Fukui also had experience in that field.
But he has proved his credentials as President of Honda's R&D operation, where he was instrumental in bringing the revolutionary NSX from concept to reality.
Copyright © Press Association 2009