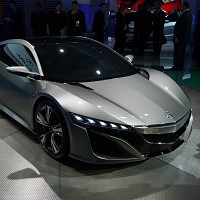 Even though drivers will have to wait nearly two years before the car arrives in showrooms, Honda (UK) is banking deposits for pre-orders on its much-awaited NSX supercar. With a £5,000 deposit, anxious potential owners can go to the head of the queue to receive the car when it arrives in 2015.
Hinda says its is pleased with the interest it has already seen for the new NSX, with over 20 deposits placed even before prices have been announced and in advance of customers actually seeing the final production car.
The NSC Concept made a sneak preview at the 2012 Detroit Motor Show, revealing the dynamic design of Honda's latest high-performance car.
A mid-mounted, direct-injected V6 engine paired with Honda's Sport Hybrid SH-AWD, or Super Handling All-Wheel Drive system, will power the NSX. Abreakdown of its components includes a unique Electric Motor Drive Unit with a bilateral torque adjustable control system that enables the new hybrid to instantaneously power negative or positive torque to the car's front wheels when it takes a corner. This system, Honda says, will give unparalleled handling for an all-wheel-drive car.
Copyright Press Association 2013