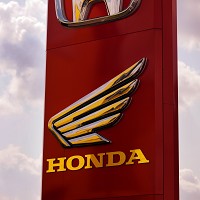 A cruise control system which is capable of predicting and reacting to another car cutting into a motorist's lane using a smoother braking action is being launched by Honda.
The Intelligent Adaptive Cruise Control (i-ACC) system will be first introduced in the new European CR-V and takes a step forward from the traditional Adaptive Cruise Control (ACC) system.
It is based on extensive real-world research of typical European driving styles.
The position of other vehicles on the road is picked up by the i-ACC using a camera and radar.
At this point, an algorithm is applied which calculates the likelihood of vehicles in neighbouring lanes cutting in.
Due to the way that traditional ACC systems work, by keeping a pre-selected longitudinal velocity and maintaining a safe distance to the car in front, braking movements tend to be stronger than with i-ACC.
The chances of a car cutting in are predicted by up to five seconds beforehand by the new i-ACC system, Honda said, meaning that any braking action tends to be smoother and much less stressful for the driver.
Copyright Press Association 2015