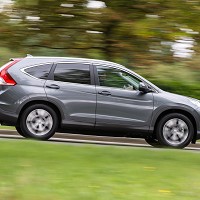 Honda has won an award for best 4x4 of 2012 for its new CR-V.
The sports utility vehicle (SUV) has been on sale for just two months. But the fact that the British-built vehicle is new to the streets didn't stop Total 4x4 Magazine naming it 4x4 of the Year.
Honda's CR-V, manufactured in Swindon, beat the competition in the medium SUV category before scooping the best overall award. The awards judge vehicles on how practical they are as well as their comfort and the quality of their interiors.
To gain a good sense of the quality of a vehicle, the panel take turns to drive the 4x4s being considered for an award along the same route.
Editor Alan Kidd said this year's awards had seen a record number of vehicles competing for the best overall award. But he said the CR-V was a clear winner with a high quality interior and great flexibility.
Those looking to buy a new 4x4 to see them through 2013 would do well to consider the Honda CR-V before looking for a good deal on car insurance and breakdown cover.
Copyright Press Association 2012
*Car Insurance http://www.rac.co.uk/car-insurance/
*Breakdown Cover http://www.rac.co.uk/breakdowncover/