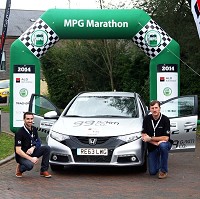 Honda's Civic Tourer has been named the most eco-friendly car.
The Japanese-built motor beat off rivals in a 26-team MPG Marathon driving challenge to find the motor with the best miles-per-gallon ratio. The findings suggest that motorists wishing to save at the fuel pumps should head to their nearest Honda dealership.
Its 1.6 diesel-powered engine outshone the rest of the field with 97.92mpg over the two-day 330-mile UK road course, spanning areas such as Brecon Beacons, Bath and Andover.
This figure bests the model's originally-quoted combined mpg of 74.3mpg by almost a third (31.8%).
The winning team of R&D engineers, Julian Warren, Tony Shiggins, Fergal McGrath and James Warren, came from Swindon-based Honda.
Fleet World Magazine's challenge asks teams to test their mpg in the real world, combining smarter motoring techniques with efficient engines.
MPG Marathon organiser Ross Durkin, who is also Fleet World Group's managing editor, says the test proves just what economies can be hit with today's eco-friendly motors.
Copyright Press Association 2014