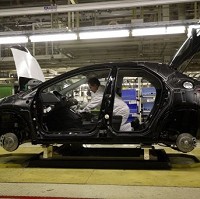 Patriotic British motorists have helped to swell car manufacturing output in the UK, according to official trade figures.
Thousands of UK people buying a car bought British last month - with 119,338 vehicles rolling off the production lines.
This represented growth of 2.3% on the corresponding month last year, the Society of Motor Manufacturers and Traders (SMMT) reported. Vehicles built for the domestic market grew by 13.3%, it found.
The UK car industry has seen a boom in recent times. This time last year the SMMT announced that British motor exports had doubled in just a decade .
The SMMT's latest figures bucked the recent trend, however. Cars built for sale abroad dropped 0.2% last month.
As many as 649,843 machines have been made in the automative trade from January to May this year. This is a dip of 0.8% compared to the same period last year.
Mike Hawes, chief executive of the SMMT, believes the future will continue to be "promising" for the sector in the UK. The officials said the upturn in units produced is likely to be "strong" and "sustained" for years.
He pointed to a substantial amount of British-built models starting to go into production over the months ahead.
Mr Hawes says the domestic market has helped boost British car building's "steady" showing. The recovery of important European markets are helping with recovery among export production rates, he adds.
The UK car brand is still highly prized by car buyers around the globe, he added. Mr Hawes said they were attracted by British workers' "high-quality" engineering and its iconic lines.
Just how crucial the car sector is to Britain's economy can be revealed in figures which show that it pours over £64 billion in turnover into the economy every year.
It directly employs over 160,000 staff and a further 770,000-plus not directly involved in the manufacturing process.
The industry is behind around a ninth (11%) of all UK export goods, while research and development investment amounts to £1.9 billion annually.
Over 30 UK-based manufacturers make over 70 types of vehicles. They are backed by roughly 250 component firms as well as some of the finest engineers on the planet.
Copyright Press Association 2015