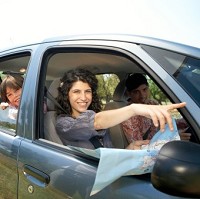 Britons are making fewer and fewer trips out of the house, but of these, 64% still involve using the car, according to a new survey.
Including walking and all forms of transport, figures from the Department of Transport show the average Briton made 954 trips from the house within Britain last year. This compares with 1,086 trips per year in the period 1995 to 1997.
In 2012, the average distance travelled was 6,691 miles, a 4% reduction on 1995-97 and also lower than the recent peak of 7,208 in 2005. All walks of more than 50 yards are included in the figures, although walking trips had fallen by 27%. However, public transport saw a welcome boost with the revelation that private transport trips had fallen by 14% while public transport trips had increased by 2%.
Cars are still the favoured mode of transport with 64% of trips (as a driver or passenger) being by car, and accounting for 78% of the distance travelled by the 8,201 households questioned in the survey.
On average, females make more trips than males, but males travel further each year. Also, the average number of car trips and distance travelled by males is falling, while those by women are increasing.
The average number of cars per household rose in 2012, although the average annual mileage per car reduced from 9,500 in 2002 to 8,200 in 2012.
Copyright Press Association 2013