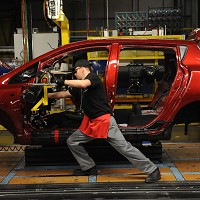 Car production in the UK endured the usual summer holiday lull in July, according to the Society of Motor Manufacturers and Traders (SMMT).
Figures released by the trade association show a total of 117,665 cars rolled off the production line during the month - 11.2% down on the same period in 2014.
The first half of the year was the best on record since 2008, as domestic and international demand increased.
Some 793,642 cars were built between January and June, equating to three cars every minute.
June saw 143,759 units alone. But production slowed down in July, something which the SMMT claims is typical for this time of year.
Chief executive Mike Hawes says a number of manufacturers usually pause production during the quieter summer months to invest in upgrades and prepare for new model launches.
Despite the fall, he claims the industry remains in a strong position.
This year has seen 911,307 cars built to date, down by 1.4% year-on-year.
A host of significant new model introductions are also planned for the autumn, as drivers return from their holidays and look to buy a new car.
Copyright Press Association 2015