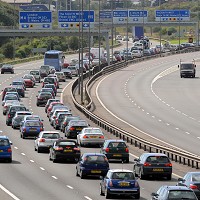 Britons about to embark on their summer holidays have been warned to expect persistent and long delays on many parts of the road network.
Traffic information company Inrix said traffic jams are set to begin this Friday, when journeys that normally take 60 minutes could end up taking one and a half hours.
The five Saturdays from July 26 to August 23 will be up to 25% busier than usual, Inrix added, and will be the most congested days throughout the summer.
Holidaymakers travelling to the south-east and north-west of England are those most likely to be affected by traffic jams.
RAC spokesman Simon Williams said: "With the length of the summer holidays providing people with plenty of choice as to when they go away, we would expect to see motorists hitting the road over a longer period of time, rather than a big rush to get away.
"However the unpredictable nature of the British summer weather is likely to be a big influence, and if the sunshine decides to come out this weekend thousands will head to coastal areas to make the most of the weather."
Copyright Press Association 2014