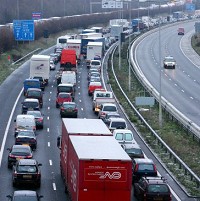 Motorists have been warned to expect particularly busy roads over the next three days.
The RAC expects the number of holidaymakers on Britain's highways to peak at 2.3 million on Saturday, with Friday also likely to hit the 2 million mark.
Motorists may be wise to set their journey planners away from the M4 and M25 around Heathrow airport unless totally necessary. This is because the West London terminals are tipped to have their busiest day on record on Friday - with 129,647 Britons scheduled to leave the country from there.
Heathrow airport officials say they are putting on extra staff to cope with the increased volumes.
Passengers will be given advice on a range of subjects from how to keep children waiting for their scheduled flights amused, to which restaurant is best for them.
Pete Williams, external affairs head for the RAC, says: "This coming weekend will see a further 'summer spike' of traffic on major roads, with families who have spent the first week of the school holidays planning a break finally making their getaway.
"We're expecting traffic to peak on Saturday, with some 2.3 million holidaymakers on the road, but Friday is also likely to see jams as two million of us take to the wheel to start a summer break.
Mr Williams continued: "Routes to the Channel ports are likely to be particularly busy.
"Each year some six million Brits cross the Channel in their own cars, and with most journeys taking place through the summer, now is a good time for any motorist planning a trip to ensure they have quality European breakdown cover in place.
"We also recommend motorists travelling any distance check their car to cut the risks of an unplanned stop - ensure tyres have enough tread, check oil and coolant levels, and don't overload your vehicle."
The RAC reminds motorists braving bank holiday or peak-holiday traffic to always set off early .
Copyright Press Association 2015