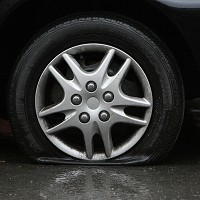 People heading off in the car for a summer getaway are being urged to carry out simple checks that could save them hours of strife.
TyreSafe says about nine million cars travel on Britain's roads with under-inflated tyres.
This significantly increases the risk that a tyre will fail, especially if it's hot and the car is weighed down by cargo - such as when a family sets off with luggage for a summer holiday.
There is a far bigger risk of quick deflation in a below-pressure tyre because the weight is concentrated in its outside edges and it can get too hot.
Typically, that happens in the place it could be most perturbing - on the motorway. While breakdown cover at least means drivers have someone to call in such a situation, the message is that a quick check of tyre pressures before setting off is easy and preferred.
There were 8,700 breakdowns related to tyres on the Highways Agency network from September to July 2013, it says.
The chairman of TyreSafe, Stuart Jackson, says "miserable incidents " like blow-outs and other tyre-related breakdowns can be prevented by the checks.
Drivers first need to find out what the pressures should be - the information can be in the car handbook, on a notice on the car chassis just inside the driver's door or inside the petrol cap.
They are also advised to remember that a different pressure might be best if the vehicle is heavily loaded with people or other items.
Copyright Press Association 2014