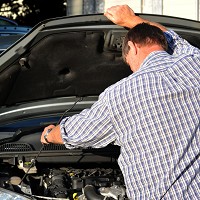 A list of traffic hotspots has been published which could help holidaymakers prepare for their trip.
The Highways Agency has compiled traffic data from the past three years and identified the busiest routes during two key summer periods - the beginning of the school holidays, from July 18 to 20, and the bank holiday weekend from August 22 to 25.
For the first weekend, they found that routes to Dover, Folkestone and Manchester Airport were particularly busy, mainly at around noon, while routes to Gatwick, Heathrow, and the east and west coast of England were among the busiest routes during the second weekend.
The agency announced that it will suspend most of its roadworks on the bank holiday weekend in a bid to prevent congestion.
Motorists have also been urged to check their cars before embarking on their journey, as new figures show that the agency deals with more than 9,000 preventable breakdowns each summer.
Copyright Press Association 2014