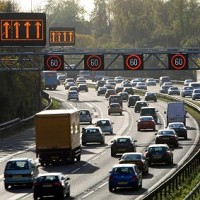 Motorists planning a bank holiday getaway this weekend are being warned that Friday is likely to be the busiest on the roads.
The RAC is recommending that drivers leave as early as possible to gain a head start on the rest of the traffic.
The advice comes in the wake of our forecast predicting that 14.5 million people will cram the motorways and A-roads this bank holiday, including 4 million on Friday.
Some novice motorists will be driving on motorways for the first time , especially since these roads are not included in the practical test. While such roads may be statistically safer than other British highways, there are simple ways to safeguard yourself even more.
Evening rush-hour traffic is likely to be particularly hectic as workers share the roads with drivers looking to enjoy a long weekend break to visit family and friends.
Weather forecasters are predicting an unsettled weekend of mixed conditions, unlike the summery condition seen across the UK throughout much of April.
Pete Williams, external affairs head for the RAC, said: "Our data shows that many motorists look set to make the most of the coming long weekend by grabbing the car keys and taking to the road to visit friends and family.
"While the weather forecast might not hold too much promise, we're now into the time of year when days are longer and, when the sun does put in an appearance, it should feel pleasantly warm.
"As is typically the case, the Friday before the bank holiday looks set to be the most hectic day - so we're advising motorists who can set off early to do so to get ahead of the rest.
"And when you are on the road, watch out for those snap springtime showers that can quickly reduce both your view of the road ahead and the grip of your car's tyres."
Drivers can help plan their journey with more certainty by downloading the RAC Mobile Traffic App free of charge. This is compatible with Android or iPhone devices.
Copyright Press Association 2015