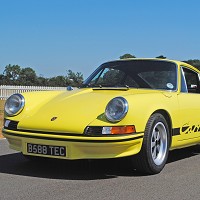 Historics at Brooklands will sell nine special Porsche 911s manufactured from 1970 to 1991 to celebrate the 50th anniversary of the car.
The models will go up for auction at Brooklands Museum on August 31, when the 1973 2.7RS is expected to be the star attraction.
Historics' auction director Edward Bridger-Stille said: "In the long evolution of the Porsche 911, the 2.7RS model is one of the most valued by collectors, and its value has soared as steeply as the slope of its characteristic ducktail rear spoiler!
"This model is well beyond the pocket of most enthusiasts, which is the reason why Historics is witnessing a strong market for newer 911 models that are professionally equipped with bodywork, wheels and detailing exactly that of the 2.7RS."
Historics is offering three of the models at its auction, including two 1984/1985 3.2-litre Carreras - one to 1973 RS Martini specification, worth between £26,000 and £32,000 - and a 1991 3.6-litre Carrera 2, estimated at £28,000 to £35,000, all of which feature the unique 2.7RS look.
Copyright Press Association 2013