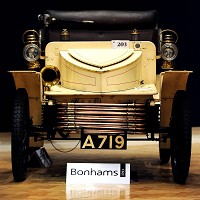 A Vauxhall car dating back over a century has sold for £94,460 at a London auction house.
Thought to be the oldest intact Vauxhall model in existence, the 1903 5hp Two-Seater Light Car fetched nearly £15,000 more than its guide price.
Featuring cream paintwork and fitted with brown leather upholstery, the car was snapped up by a UK buyer at Bonhams in London.
Originally ordered for Vauxhall managing director Percy Kidner in November 1903, the car was later sold on the following year to Dr Dudley Bernhardt, who lived in the Marylebone area of London.
The Bernhardt family took the vehicle out on the roads until around 1920, when a modern-style radiator and bonnet were installed.
After the Second World War, the car became a much sought after collectible and in 1955 it was loaned to the London Science Museum.
The museum modernised the vehicle, with assistance from the Vauxhall Motors plant in Luton, which enabled it to make journeys between London and Brighton.
In 2001-02 it underwent a full-scale refurbishment and it is fully operational, although breakdown cover isn't likely to come cheap, since parts are unsurprisingly not readily available!
Tim Schofield, director of Bonhams' UK motor car department, said: "This is the first time in 108 years this historic landmark vehicle has been offered on the open market."
Copyright Press Association 2012