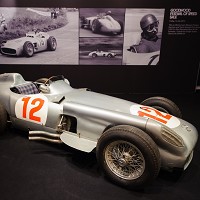 A racing car thought to be one of the most valuable in the world is up for auction at the Goodwood Festival of Speed in Chichester, having already brought inquiries from possible buyers on three continents.
The historic Mercedes-Benz W196 was the car in which five-times Formula 1 World Champion Juan Manuel Fangio won his second title in 1954.
He won that year's German and Swiss Grands Prix in the 2.5-litre straight-eight single-seater.
A Bonhams auctioneers spokeswoman said these were the first victories on the run for the factory Mercedes-Benz team in its post-war racing comeback.
In the 1955 Grand Prix, the car, chassis number 00006/54, was only used in the Italian event, running in second place behind Fangio's sister Mercedes-Benz before gearbox failure overtook it.
The car is the only Mercedes-Benz W196 still held privately.
The design of the "icon of postwar recovery", the first open-wheeled slipper-bodied post-war Mercedes to win an F1 Grand Prix, marked a number of pioneering technologies being introduced to the sport.
Such a rare car is bound to fill the eyes of motor enthusiasts and those interested will be looking seriously at covering the cost of essentials such as car insurance .
Copyright Press Association 2013