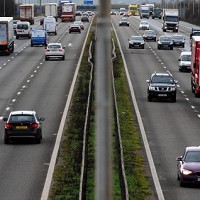 Drivers are already benefiting from the work of Highways England, according to the first official review published this week.
The Office of Rail and Road (ORR) has said body has made a good start since taking responsibility for the country's major roads in April.
The report, published today, found that Highways England has surpassed its goals on swiftly clearing up accidents and keeping lanes running in the event of accidents or breakdowns .
In addition, Highways England is properly maintaining major A-roads and motorway surfaces, the study says.
Ministers had hoped that the Government-owned company would bring improved long-term investment and planning as well as reducing traffic queues through better coordination.
The ORR's report also identified improvements that need to be made. It says that Highways England has to be more specific as to how it is going to deliver proposed upgrades to the A-road and motorway network.
It adds that the agency has to speed up its plans to make its strategic roads safer. This will involve influencing motorists' mindsets and addressing engineering challenges, it says.
Peter Antolik, highways director for the ORR, calls the findings "positive".
He says this is especially the case when people consider the "ambitious" schedule of upgrades that will bring more than £15 billion worth of benefits for road users.
Mr Antolik praised the body's smooth transition into its new role, providing better roads and infrastructure and listening to road users.
But he says improvements are required when it comes to road safety and clarifying the details on some future key road upgrades.
The ORR will be consulting with Highways England in the months ahead to put right these issues before publishing its first yearly review of the agency's performance in summer 2016.
Copyright Press Association 2015. Motoring News articles do not reflect the RAC's views unless clearly stated.