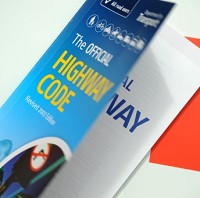 Millions of motorists never look at the Highway Code once they have thrown away their L-plates, a new poll suggests.
Over three-quarters of drivers polled (77%) say they have not opened the road law guidebook since qualifying to drive.
This has prompted the Driver and Vehicle Standards Agency (DVSA) to launch a new social media campaign to highlight the importance of the Code.
The agency is urging motorists to follow its Facebook and Twitter feeds to stay up to date with road rules.
The DVSA hopes it can raise its number of followers on Facebook and Twitter from the existing 38,000 and 50,000 respectively.
The new poll of 400 adults reinforces a similar survey earlier this year, which showed that drivers use the Code simply to get through their test rather than for ongoing reminders.
Motors.co.uk found that 98% would fail to pass their theory exam if taken today, thus barring them from taking their practical exam.
The new DVSA campaign includes a simplified edition of the Code's regulations which should be easier for people to use.
The poll suggests that the updates are already having an effect on driver behaviours. It shows that 63% of motorists claim their driving has changed since receiving the alerts.
Nine in 10 claim they would advise friends and relatives to join the service.
Lord Ahmad, the Transport Minister, calls the Code "essential reading" whatever people's driving experience.
He says it is not just for beginners, but for everyone who gets behind a wheel.
The peer says it has never been so easy to stay informed of the latest revisions to road rules and the Code, as well as getting reminded of existing regulations.
Lord Ahmad says that the UK's roads are already some of the world's safest. He says that ensuring drivers keep their knowledge and skills updated will help keep it that way.
Copyright Press Association 2015