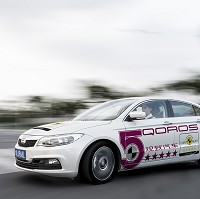 New car brand Qoros has been awarded a five-star safety rating for its 3 saloon by performance assessors Euro NCAP.
It scored 95% in the "adult occupant protection" category - the best for any car this year - and 87% in the child passenger category during crash tests. It also achieved 77% in the category which covers protection for pedestrians.
Qoros is the first China-based brand to achieve five stars in the Euro NCAP tests.
The company's vice-chairman, Volker Steinwascher, said: "The safety of our vehicles was one of our key development goals from the start.
"It's a crucial demonstration that our customers are the most important consideration and it also says a great deal about the engineering integrity of the car as a whole."
Euro NCAP's Andy Piper, the organisation's chief engineer of vehicle safety, said: "The 2013 Euro NCAP protocol demands very accurate computer simulations when calculating the pedestrian protection performance. As industry-standard pedestrian models were not sophisticated enough for this purpose, Qoros developed its own models.
"The outcome is that we are proud to have developed one of the best pedestrian-protection systems ever assessed by Euro NCAP without any compromise to our distinctive styling or our class-leading aerodynamics performance."
Copyright © Press Association 2013