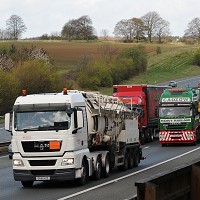 Lorries can now travel at higher speeds thanks to new regulations.
Speed limits in England and Wales for heavy goods vehicles (HGVs) weighing over 7.5 tonnes when loaded have risen from 40mph to 50mph on single carriageways - and from 50mph to 60mph on dual carriageways.
Truckers have welcomed the 10mph jump, while several road safety campaigners are unimpressed.
But the RAC points to research undertaken in Denmark, which seemed to show the number of accidents on rural roads there decreased when the speed limit was raised.
Running cost benefits
The Freight Transport Association (FTA) believes the move will lead to a number of running cost benefits for operators nationwide, both large and small, as well as help them to get from A to B far quicker.
It points out that the previous speed limit was introduced in the 1960s and that since then, lorry technology has advanced considerably.
FTA head of road network management policy Malcolm Bingham backs the new speeds. He says the old limits sometimes led to hasty overtaking manoeuvres that sadly often resulted in casualties on the roads.
HGV drivers cover thousands of miles each year.
Ground-breaking
Commenting on the passing of the new limits, RAC spokesman Simon Williams said: "A two-year experiment by the Danish road directorate shows accidents have fallen on single-carriageway rural roads where the speed limit was raised.
"Accidents have also fallen on motorways where the speed limit has been increased.
"This study has revealed some very interesting, counterintuitive findings which are worthy of further investigation.
"For obvious reasons, there is a general belief that lower speed limits are needed to save lives, but in discovering that closing the gap between the fastest and slowest vehicles can help to reduce the number of road casualties, the Danish study may well prove to be ground-breaking in years to come. What's needed now are more studies to establish whether this reduction occurs in all instances."
Putting other motorists at risk
But not everyone is singing from the same hymn sheet. Road safety charity Brake has hit out at the new speed limits for HGVs, while the Campaign for Better Transport has also spoken about its unhappiness with the move.
Brake says it is disappointed that the Government has gone against the advice of road safety groups on this issue.
It describes the decision to increase speed limits as short-sighted and claims it flies in the face of work to more effectively manage traffic speeds and reduce casualties on the roads network in England and Wales.
The Campaign for Better Transport echoes much the same sentiment. It adds that the Government is choosing to ignore its own figures which show that HGVs are now six times more likely to be involved in fatal collisions than cars on minor roads, putting the drivers and other motorists at risk.
The Institute of Advanced Motorists , on the other hand, says the new limits should reduce stress and ease bad overtaking on the roads, but only if drivers behind the wheel of HGVs are fully aware at all times.
Copyright Press Association 2015